Love, Happiness, Trust, Desire, Surprise,

Cravings - Tell Your Story with Custom Neon Wall Signs

Whether a business event or a party night, any indoor or outdoor decor tells something about your personality. Get the best-in-class personalized neon signs for your business, wedding, home, restaurant, cafe, club, and more from NeonChamp. Bring home energy and cost-efficient neon letter signs, which are easy to install and ultra-modern too.
Get Groovy!
DESIGN NEON LIGHTS

WITH

#1 BRAND
NeonChamp brings you the best-in-class Neon LED Lights in your choice! Get started and choose from the best pre-made neon signs like "angle neon sign", "the world is yours" neon sign, Vibes only neon signs, and more. Or customize a neon sign with your preferred icon, logo, emoji, or quotes.
Top Selling Neon Signs
Check out the most popular items at NeonChamp and bring them to your home too!
Why Choose Custom Neon Signs As

Your Eye-catching Decor?
Custom Designed

Save & Secure Checkout

Energy & Cost Efficient

3 Years Guarantee
We bring you the latest collection of Neon lights on our Insta feeds so keep following us for trending LED Neon wall signs. Want more? Tag us on Instagram share the screenshot with us at cs@neonchamp.ca and claim your 20% refund on your order.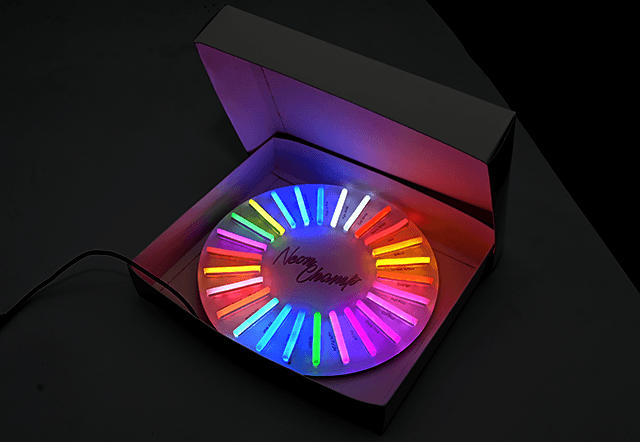 Neon Sign Boxes and Color Rings You'll Love Unboxing
With each box you get
LED Neon Sign
Installation kit
Dimmer Switch
Extension Cable
Power supply
Shop for our unique Color Ring to choose the most appropriate LED neon colors complimenting your walls.
Color Ring
About NeonChamp
Beautiful Inside Colorful Outside - Our Neon Signs Are Special
We at NeonChamp believe with Neon signs, you can completely change the look and feel of your home or business space! That is why NeonChamp, Canada's most loved and ranked amongst the best place to buy neon signs, brings you a whooping collection of neon walls signs, neon letter signs, neon wedding signs, and neon signs for business.
Best Quality Personalized Neon Signs for You
Our neon signs are made to last long as we design every pre-made and custom sign using premium quality materials. Our energy & cost-efficient LED signs are easy-to-install, durable, and come with an unbeatable warranty.
We bring you LED letter signs which consume truly little power and save your overall expenses. If you are looking to buy Neon Sign for business, we complete customization options for you so that you can get beautiful neon letter signs in the form of your logo, tag lines, or vision mission statements.
Neon Wall Signs in Your Chosen Design, Size, and Color – No Questions Asked!
We are sure when it comes to home décor, you have different choices and preferences and that is why we give you an option to choose your text, size, color, and style options. So, give your space the attention it needs with the best personalized neon signs now with NeonChamp.
Neon Signs to Attract Your Customers
For restaurants, cafes, clubs, business, and office spaces neon signs are the newest and most trending way to attract new customers. Also, when rightly placed for décor, these neon LED signs become a place where everyone would love to take a picture and post it on Instagram. This means your business get free publicity and delighted customers.
Custom Neon Signs FAQs
How do you make a neon sign?
You can customize the neon signs using Neon Champ's easy-to-use design tool which allows you to enter your text, tag lines, or any custom sign you need. Just see the final version before paying for Neon signs online and get assured of the product and its quality.
How much does a neon wedding sign cost?
The prices of neon wedding signs depend upon several factors like the size option you choose customization options you prefer, and more. If you have a corporate neon sign requirement or looking to design neon sign for business or bulk neon signs for weddings and party décor you can ask for a quote.
Can you make your own neon sign?
Yes, we have several customization options open for you and you can choose the design of your neon wall signs as per your choice. Be it a logo, a sweet message, a couple name or other icons, anything and everything can be designed on neon sign as per your preference and size requirements.
How much should you pay for a neon sign?
Neon signs start above C$98.93 or more depending on the size and customization options you need.
What is the difference between neon sign and LED sign?
LED lights have proved to be more energy efficient, cost friendly and more durable, however, they don't have sharp lights when compared to neon signs. Neon signs emit sharp rays, which is the reason behind their popularity, but they are also more fragile and prone to breaking if not handled well.
Can you put a neon sign outside?
Yes, our neon signs are designed for both indoor and outdoor exposure.